Up to 50% off Glow Worm Tour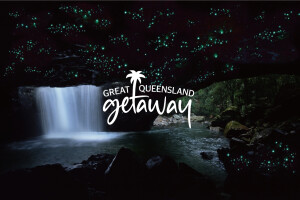 Very excited to be part of the Great Queensland Getaway!
Our Glow Worm Tour is up to 50% off for a very limited time, claim your promo code today at queensland.com/greatqueenslandgetaway
If you have already received a unique promo code, please click here to proceed a booking.
Deal /Offer Name:                Up to 50% off Glow Worm Tour / The Great Queensland Gataway!
Deal Description:                  Use Promo Code to redeem 50% off, up to $100 on Glow Worm Tour
Deal T&C:
Our standard Terms & Conditions are available at our website.
Terms and Conditions of The Great Queensland Getaway campaign applies to all Promo Code bookings.
We will acknowledge as you have accepted it so please read all before proceed the booking
You must write your unique Promo Code in "Enquiry" when you complete booking on our website.
Your booking request is processed during our office hours of 9am to 5:30pm, Monday to Friday.
Supplied Promo Code is verified during our office hours (9am to 5:30pm, Monday to Friday) and you will be informed an outcome of verification by email within one business day.
If Promo Code is accepted, you receive a refund of either 50% or $100 at the same time.
Booking is accepted minimum of 2 adults.
Tour may be cancelled or amended due to circumstances beyond our control.
Campaign Booking Period:      17 Oct 2021 – 31 Oct 2021
Campaign Tour Period:          Please refer to tour availability from the calendar on Online Booking page.