Our long-term commitment of ecologically sustainable tourism, we have been successfully completed renewal of Ecotourism certifications. We have been holding the certifications for Advanced Ecotourism, Respecting Our Culture and Climate Action Business since 1997.
We are proud of our accreditation achievements through the Quality Tourism Framework for a QTAB-Sustainable accredited business.
Australian Tourism Accreditation Program (trustthetickqld.com.au)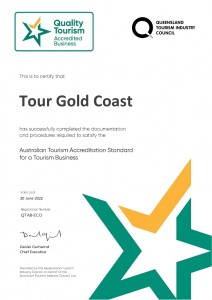 Please note that our office will be closed from 5:30pm 24th December 2021 until 9am 04th January 2022.
Wishing you all a very merry Christmas and prosperous new year.
We are finally back in operations. Our Glow Worm Tour has been scheduled to recommence from December 2021. Seat numbers are very limited, please check availability from Booking Calendar.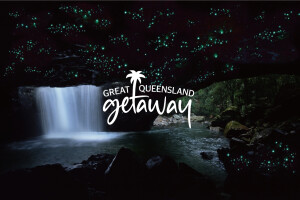 Very excited to be part of the Great Queensland Getaway!
Our Glow Worm Tour is up to 50% off for a very limited time, claim your promo code today at queensland.com/greatqueenslandgetaway
If you have already received a unique promo code, please click here to proceed a booking.
Deal /Offer Name:                Up to 50% off Glow Worm Tour / The Great Queensland Gataway!
Deal Description:                  Use Promo Code to redeem 50% off, up to $100 on Glow Worm Tour
Deal T&C:
Our standard Terms & Conditions are available at our website.
Terms and Conditions of The Great Queensland Getaway campaign applies to all Promo Code bookings.
We will acknowledge as you have accepted it so please read all before proceed the booking
You must write your unique Promo Code in "Enquiry" when you complete booking on our website.
Your booking request is processed during our office hours of 9am to 5:30pm, Monday to Friday.
Supplied Promo Code is verified during our office hours (9am to 5:30pm, Monday to Friday) and you will be informed an outcome of verification by email within one business day.
If Promo Code is accepted, you receive a refund of either 50% or $100 at the same time.
Booking is accepted minimum of 2 adults.
Tour may be cancelled or amended due to circumstances beyond our control.
Campaign Booking Period:      17 Oct 2021 – 31 Oct 2021
Campaign Tour Period:          Please refer to tour availability from the calendar on Online Booking page.
Update on Our Tour Operations (dated 01 April 2021)
Due to the remaining closure of international borders, our tour operations remain suspended. Once the Australian border reopens and tourists from overseas are again able to travel freely, we will recommence tour operations. We appreciate your support and understanding. We are looking forward to welcoming you again soon.
 Any enquiries, please feel free to contact us by email at bookings@tourgc.com.au
Dear valued customer,
Following Government announcements from 22nd of March and concern of significant increase of positive cases of Coronavirus, Tour Gold Coast has decided to temporarily close our operations until further notice. All confirmed bookings will be informed soon for cancellation with no cancellation charges.
All tours will be cancelled from 23rd of March until further notice. Our office will be closed after 5:30pm on 27th of March.
While we close the office, we will be limited only in email communication.
We will provide a further update on these operations matter, communicate with you on any changes.
The health and wellbeing of our customers and staff remains our utmost priority and look forward to reopening when the time is right.
On behalf of our team, we thank you for your support and understanding. Please stay safe.
We write to you to give an update on how Tour Gold Coast is going to manage challenges relating to the Novel Coronavirus outbreak. It has been very difficult for us in the tourism to see the situation surrounding impacting on our industry.
Due to significant amount of cancellations and shortage of customers, we will arrange some adjustments on our daily operations as per followings:
From Saturday 28th March, we will close our office on all Saturdays and Sundays until further notice. We will response you back all enquiries and emails received on weekend as soon as possible on following Monday.
We will not confirm new bookings for Glow Worm Tour in English on Saturdays and Sundays until the end of April. Exception with days with already confirmed bookings and we operate the tour as we honor on confirmed bookings.
We will continually review the situation and make changes where necessary. Any changed will be communicated on our website and Facebook with you.
The news about novel coronavirus continues to develop. It is important to take sensible steps to look after yourself and your family.
Thank you for your support and we will continue to try providing quality services. We appreciate your cooperation and understanding on this matter.
Thank you for all your generosity for the WWF donations during the tour. Tour Gold Coast has been donating to WWF Australia on wildlife and nature recovery fund to supply urgent care to wildlife organisations. In February, we donated in total of $789.00.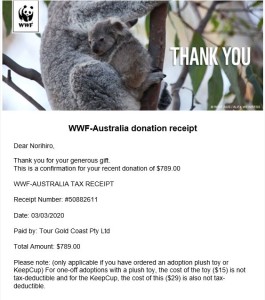 Thank you for all your generosity for the WWF donations during the tour. Tour Gold Coast has been donating to WWF Australia on wildlife and nature recovery fund to supply urgent care to wildlife organisations. In January, we donated in total of $506.50.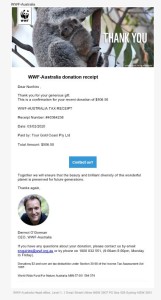 We would like to take this opportunity to thank you for your support of Tour Gold Coast.
The situation in relation to the 2019 novel coronavirus continues to evolve. We would like to ask for your cooperation regarding the below company policies in order to prevent the spread of the disease.
Currently, the Australian Government Department of Health recommends people who have been in Hubei Province of China be isolated in their home for 14 days after leaving Hubei Province to monitor for the development of symptoms. Refer to the below web page from health.gov.au
https://www.health.gov.au/news/coronavirus-update-at-a-glance
Pursuant to this, Tour Gold Coast asks all tour customers to comply with the below new policies effective immediately.
We regrettably must decline service to customers who have been in Hubei Province in the past 14 days.
If there is one customer within the group who has been in Hubei Province in the past 14 days, we must decline all customers in the same booking confirmation number.
Our tour guides will ask the above question to all customers at the time of hotel pick ups.
If any customers fall under the above categories and have their tour cancelled at hotel pick up, the cancellation fee will be waived.
We will  advise customers to contact the booking agent and receive a refund through the booking agent for the tour.
Please also be informed we have been implementing the following prevention activities:
Reusable tour equipment is sanitised and disinfected
Sanitisation and disinfection of the interior of the vehicles after each tour
Customers to use alcohol-based hand sanitiser when they board our tour bus
We aim to ensure we provide customers with a safe and enjoyable experience. We appreciate your cooperation on this difficult situation during an international emergency.
Should you have any questions on this matter please feel free to contact us on 07 5538 2800.
Thank you.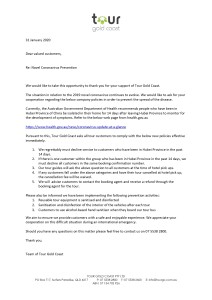 Australia is in the grips of a nationwide bushfire emergency. Tour Gold Coast has been offering customers an opportunity to donate directly to WWF's Australian Wildlife and Nature Recovery Fund, to save wildlife, and when the fires have cleared, restore our lost forests in New South Wales, Victoria and South Australia.
Your support is very much appreciated.
https://www.wwf.org.au/get-involved/bushfire-emergency#gs.qpz879
Tour Gold Coast wish acknowledge the outstanding efforts of Australia's Rural Fire Services, volunteer fire fighters and local rangers. Natural Bridge section of Springbrook National Park fortunately remains unaffected. Therefore, we are operating Glow Worm tour nightly as normal.   Glow Worm Tour customers can continue to enjoy the rainforest walk and viewing glow worms in safety.
Updated : 28/JAN/2020
We have been informed Springbrook National Park is now reopened. We are operating all tours as usual. We look forward to receiving bookings.
Springbrook National Park closure has been extended until 13th of September due to ongoing current wildfire situation. We will keep informed through our website.
We apologies for any inconvenience caused by this unfortunate situations.
Please contact our office for further information and tour availability.
Phone: 07 5538 2800
Mail: info@tourgc.com.au
updated
9/9/2019
Due to current wildfire, Springbrook National Park is temporarily closed until declared safe. Wildfire mitigation activities are in progress and areas will be reopened once conditions are considered safe. As of today, the park is closed until 10th September.
Stay informed of closures and weather conditions. The closure may be extended but we will keep informed through our website. If you have booked our tour during the closure date please contact us (or travel agent) to discuss change the tour date or refund the tour fee.
We apologies for any inconvenience caused by this unfortunate situations.
Please contact our office for further information and tour availability.
Phone: 07 5538 2800
Mail: info@tourgc.com.au
updated on 9th of September 2019
1 CHILD FREE with 2 paying adults for Glow Worm Tour – Book now & Save $60.
Enjoy unforgettable family fun night with rainforest walk to the famous Natural Bridge rock arch to discover mesmerizing living lights of glow worms in a cave featuring a cascading waterfall.
Please enter family discount promotion code provided on our web page when you book online >> https://www.tourgc.com.au/v1/web_booking_date/ENG/GWT/
On 11 May, Our Staff SHOOTA took part in the @greenfleetasutralia 'Tree Planting Day 2018' to give back to our environment by planting a total of 1000 new trees!
Grow grow gorw you beauty's ! #revegitation @ Schuster Park.
Thanks SHOOTA !
South Pole TM aims to help individuals and businesses to reach sustainability commitments and goals by accelerating the transition of carbon emissions to a low-carbon and climate-resilient economy, whilst at the same time, contributing towards the growth of the renewable energy industry in hopes for a future of 100% renewable global energy. Tour Gold Coast have so far compensated 50 tonnes of Greenhouse Gas Emissions by investing into South Pole's climate protection project. The carbon credits that South Pole source are from accredited and new renewable energy projects whilst supporting the UN Sustainable Development Goals.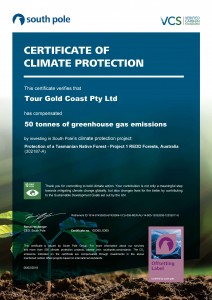 Tour Gold Coast is a proud supporter of Greenfleet, and has been participating in its native tree planting program to offset CO2-e and restore balance. During our tours, tour guides ask for a voluntary donation. With your generous support, in the last 6 months we have been able to plant 193 trees to establish a biodiverse forest and offset 52 tonnes of CO2-e.
We would like to thank our customers for their support for this cause. Thank you for supporting the continued existence of nature's beauty for generations to come; thank you for caring.